Nói lời tạm biệt với cách sạc pin thông thường qua dây điện chằng chịch,  thời phải tranh nhau ổ điện để sạc điện thoại. Mới đây nhóm phát triển FLI Charge vừa cho ra đời một thiết bị hỗ trợ các thiết bị di động có thể sạc pin mà không cần đến bất kỳ ổ cắm điện nào cả và bạn có thể sạc pin cho điện thoại của mình thông qua Wifi.
FLI Charge sẽ sạc pin theo cách nhanh nhất and dễ dàng nhất mà bạn từng sử dụng. Đơn giản chỉ đặt điện thoại của bạn xuống và pin sẽ đươn sạc đầy.
Hãy quên đi kiểu sạc pin thông thường
Với FLI Charge bạn sẽ không còn phải lo lắng không còn chỗ trống trên ổ điện hay phải tìm kiếm dây sạc điện thoại nữa
Tính năng và một số thiết bị được hỗ trợ
Linh kiện hỗ trợ kèm theo
Thông tin thêm :
FLI Charge is comprised of charging pads called FLIways and FLI Charge-enabled devices. FLIways are plugged into the wall and send power to "swimlanes" on their surface. The FLIway constantly monitors the flow of electricity and immediately halts power transfer if an unapproved object, like liquid, is detected. FLI Charge-enabled devices are embedded with the FLImod, which is a smart chip that is connected to four contact points.

The FLIcase makes charging your smartphone a complete afterthought.
Available for: Apple iPhone 6, 6s, 6 Plus & 6s Plus | Samsung Galaxy S6, S6 edge, S7 & S7 edge

The FLIcube charges any USB device optimally and as fast as plugging into an outlet.

The FLIcoin's built-in microUSB or Lightning connector makes it easy to charge any device on the go.
Power flows from the swimlanes, through the FLImod and then on to your device. The smart chip ensures that the optimal amount of electricity is sent to your device and the geometric relationship between the contact points and swimlanes ensures that the FLImod will remain in contact with at least one positive and one negative swimlane, regardless of the device's position or orientation on the FLIway, guaranteeing a continuous charge.

FLI Charge works with any USB powered device including smartphones, tablets, e-readers, Bluetooth speakers, drones, video game controllers, cameras, GoPros, smartwatches, fitness trackers and more! FLI Charge is best when you have pads in the places you spend the majority of your time.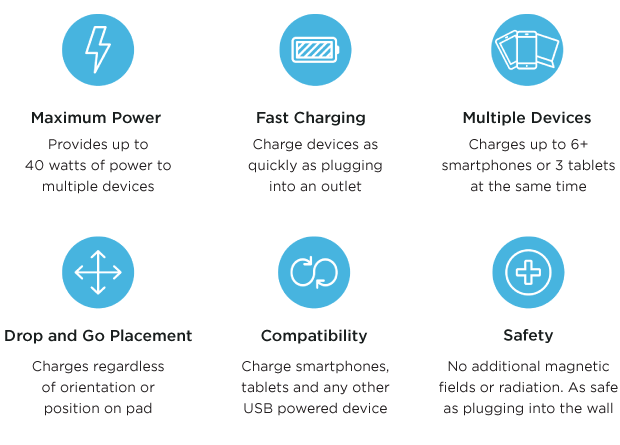 FLI Charge transforms the way you power your life, making it easy to keep all your devices at maximum power. Other wireless charging solutions, which for the most part use Qi inductive technology, are typically slow and fickle, and are limited to smaller devices. FLI Charge's technology is powerful and fast – able to charge larger devices such as tablets, cameras and drones.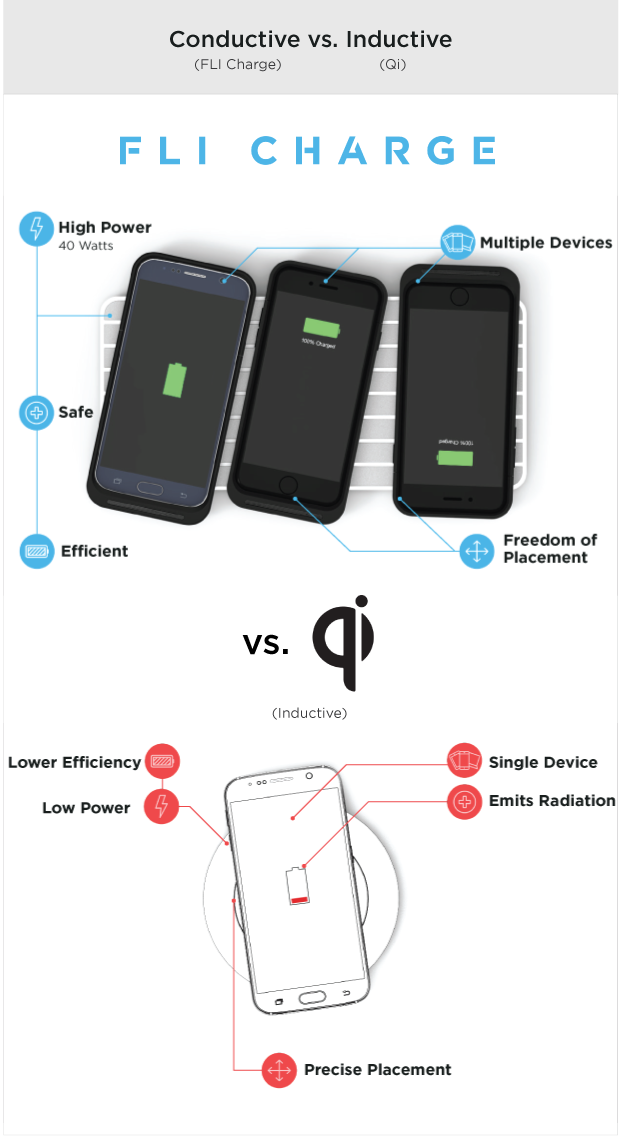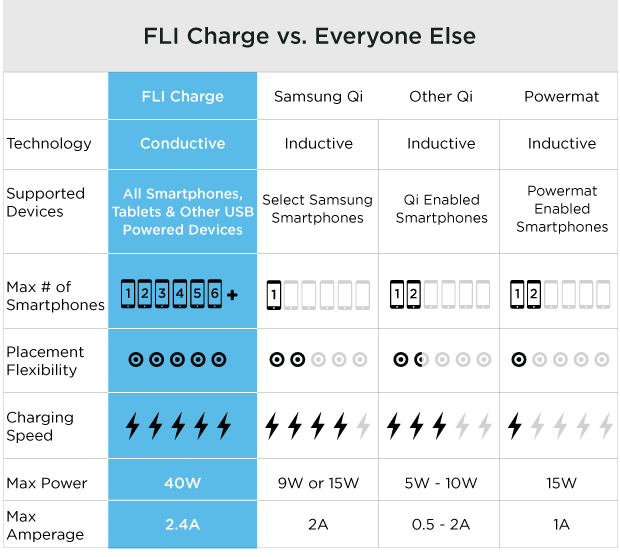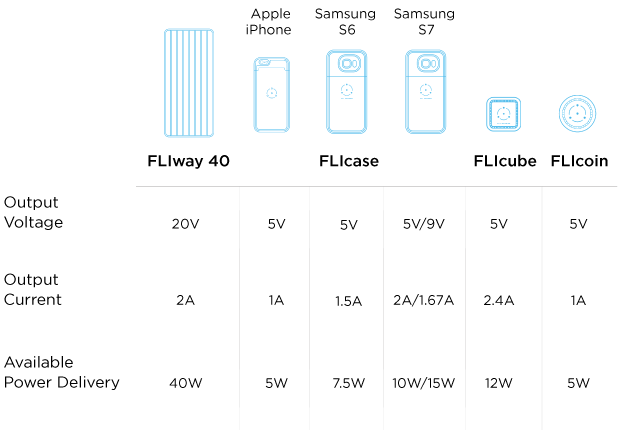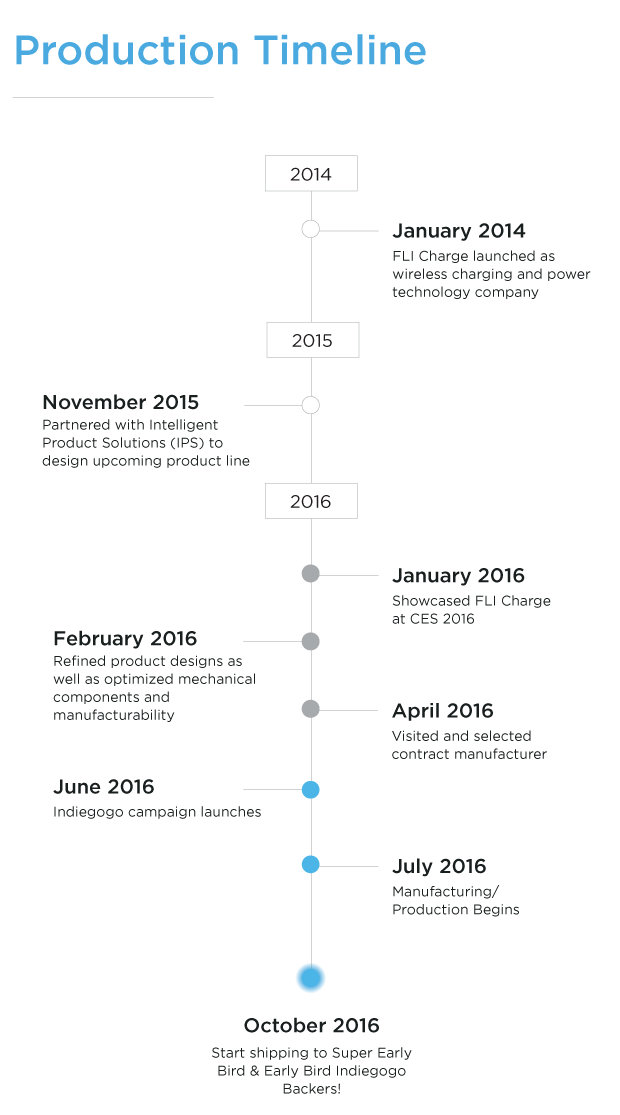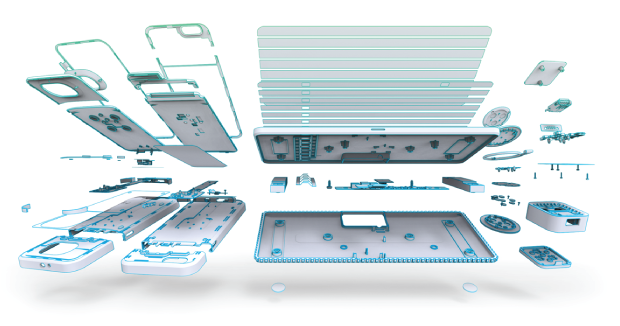 FLI Charge partnered with Intelligent Product Solutions (IPS), a world leading product development company, to design the look and feel as well as assist in preparing the product family for manufacturing. IPS' 110+ person team has extensive experience across each and every stage of the product design and manufacturing process. Its reputation is unquestionable and reinforces our confidence in delivering beautiful and beautifully made products to market.
Throughout the design process we remained conscientious of our products' user experiences as well as their aesthetic qualities, both individually and as a family. It was imperative that the aesthetic of our products be matched only by the convenience of our technology.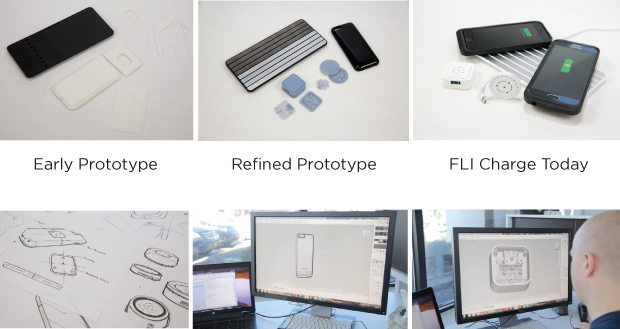 Beyond asking our customers to have faith in the promise of FLI Charge's technology, we are asking for space in their pockets and real estate in their homes; as such, we strived not only to develop tools to enhance productivity, but pieces of art that fit seamlessly into your life.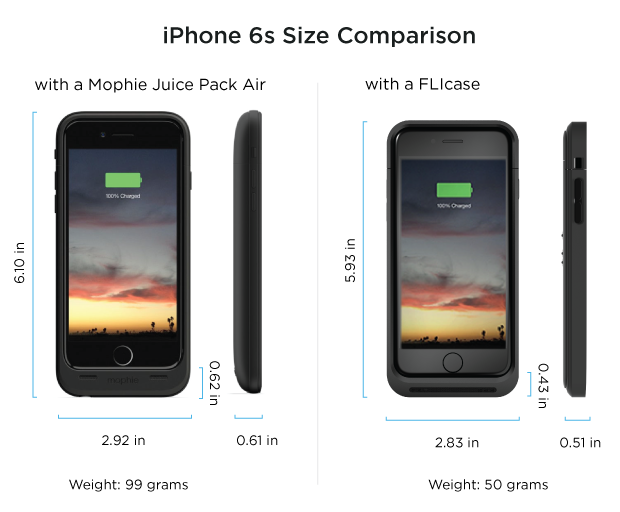 FLI Charge is not just another gadget – we are bringing a new and better standard of living to the world. We have tremendous aspirations and many exciting projects brewing, but none of these will ever happen without your help.
We are certain that FLI Charge is without a doubt the most powerful, fastest charging, easiest to use, and safest wireless charging solution on the market. We have finalized the prototypes and now we need that last push to bring the product to you as quickly as we can.
We would love for you to join our community and bring wireless charging into our daily lives. We can't wait for you to try out FLI Charge and live life on the FLI!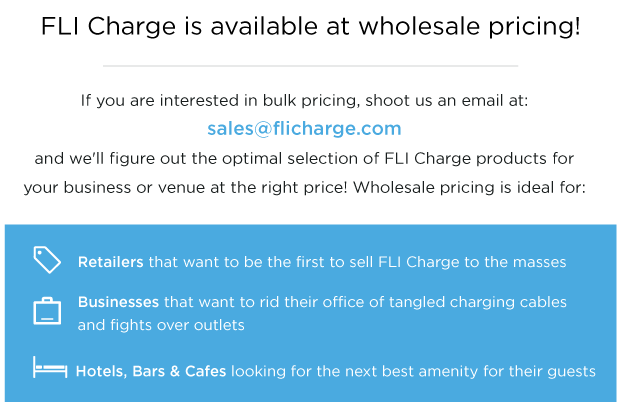 Production: Like any manufacturing project, we are acutely aware that we could be faced with unforeseen slow downs and unexpected delays. That being said, our team's experience and confidence in our manufacturer makes us confident that we will meet the projected shipment dates.
Our engineering and product teams have 100+ years of combined experience in manufacturing. After a significant amount of research, our team visited numerous contract manufacturers in China, spending day after day touring facilities and inspecting machinery. Upon our team's return, it was unanimously decided that Topband is the ideal manufacturer for FLI Charge.
Order Fulfillment: We have partnered with two of the most well known and established leaders in Crowdfunding specific order fulfillment.
Backerkit is Customer Relationship Management ("CRM") as well as a fulfillment software provider that specializes in making sure that after our campaign ends, we know exactly what products you want and exactly where you want them to go. Additionally, Backerkit will help manage our customer service and communication with you, so we can focus on getting FLI Charge to you as soon as possible!
ShipBob is a third party logistics (3PL) company with a ton of experience in crowdfunding. Their job is to make sure that once FLI Charge products are ready to be shipped, that the correct products go to the right places. In addition, ShipBob tracks and monitors each and every package, so if something goes wrong, we'll know about it and let you know right away.
Given each of our partner company's stellar reputations, and their track record of working together seamlessly, we are confident that the post campaign surveys as well as the fulfillment and distribution processes, will run extremely efficiently and effectively.

INDIEGOGO CAMPAIGN
When will my order ship?

Our mission is to get FLI Charge shipped to your door as soon as possible! As long as there are no hiccups along the way, we should begin shipping in October 2016. Of course, we will update you immediately if anything changes along the way.
How will my order be shipped? How much is shipping? Do you ship worldwide?

ShipBob, our third party logistics company, works with all of the major carriers, including  FedEx, UPS, DHL and USPS, and will determine the optimal way to get your FLI Charge products to you as soon as possible.

Shipping rates vary depending on the size of your order and where it is being sent. Shipping starts at $10 to US & Canada and $15 for everywhere else.
Who is responsible for any additional taxes, duties or VAT?

You will be responsible for any additional taxes, duties or VAT that may be applied to your order. Please check your country's import duties before purchasing. It is 0% in the US and varies internationally. You can check this comprehensive list to get started.
Can I get a refund?

Please refer to IndieGoGo's policy here.
Can I return or exchange the product after the purchase?

Sure thing! If you are not fully satisfied with your purchase, you will have 30 calendar days to return or exchange FLI Charge products from the date you received it. If you found defects in material and workmanship.

Please contact: support@FLICharge.com
Please note that our return/exchange policy does not cover the damages caused by accident, misuse, abuse, product modification or neglect.
Does FLI Charge come with a warranty?

Yes! FLI Charge comes with a one year warranty starting from the date of shipping. Your FLI Charge warranty covers all defects in material and workmanship, except the following:

Damage caused by accident, misuse, abuse, disassembly, unauthorized modification or neglect.
Damage caused by liquid contact.
Damage resulting from failure to follow instructions contained in your instruction manual.
Damage resulting from the performance of repairs by someone not authorized by our company.
If I have other questions, who should I contact?

As a backer, we understand you may have questions and we are happy to help answer them! We are currently receiving a lot of inquiries, but we make sure to try our best to respond to you as fast as possible! Please contact info@flicharge.com with any questions you might have.
When do I choose the type of FLIcase and/or the type of FLIcoin I want?

Shortly after checking out, you will receive an email outlining all of your choices and a survey for you to let us know exactly what you want.

FLI CHARGE TECHNOLOGY
Are there other wireless charging solutions like this available?

While there are many wireless charging solutions on the market today, the vast majority of them use a different technology, called induction, to send power wirelessly. To our knowledge, FLI Charge is the fastest, most powerful and easiest to use wireless charging system on the market.
What phones is the FLIcase compatible with?

To start, we are manufacturing FLIcases for the following smartphone models:

Apple iPhone 6/6s
Apple iPhone 6/6s Plus
Samsung S6
Samsung S6 edge
Samsung S7
Samsung S7 edge
What else is FLI Charge compatible with?

FLI Charge's technology is capable of charging or powering any USB powered device. Aside from the smartphones listed above, we are launching with two universal adapters, the FLIcube and the FLIcoin, that are capable of charging any USB powered device. This includes, but is not limited to:

Bluetooth Speakers
Drones
Smartwatches
Wireless Headphones
Fitness Trackers
Gaming Controllers
Vaporizers
And much more
Is FLI Charge compatible with Qi or other wireless charging technologies?

FLI Charge utilizes conductive technology and is therefore not compatible with other wireless charging technologies like Qi.
My smartphone or other mobile device has Qi built in.  Will FLI Charge still work?

Yes. FLI Charge and Qi are two completely different technologies and are not mutually exclusive. As long as your smartphone or other mobile device is USB powered, FLI Charge will have no problem keeping it charged.

FEATURES AND TECHNICAL
Does FLI Charge need batteries?

No batteries are needed to use FLI Charge. The FLIway 40 uses a standard power adapter (included) to plug into the wall. FLI Charge's power adapter plug supports 110v and 200v, meaning it is compatible with power outlets in every country around the world with just a socket converter.
How does FLI Charge's conductive power transfer work?

Conductive Power transfer occurs when two conductive objects, like metal, make contact.  Electrical current flows freely between the two conductors while electrical current is present. FLI Charge pads are connected to a power source that sends electrical current to the conductive surface of the pads. FLI Charge-enabled mobile devices have a FLImod that is directly tied into the device's' power source. When the FLImod makes contact with the surface of the pad, power is transferred from the pad, through the FLImod, to the mobile device.
How fast will FLI Charge charge my phone?

FLI Charge is nearly 100% efficient and will charge your smartphone or other mobile device as fast as plugging into the wall.
Where on the FLIway 40 should I place my phone?

One of the greatest benefits of FLI Charge, as compared to other wireless charging technologies, is that you can place your phone anywhere on the pad, in any orientation.
Will the FLIcase protect my phone?

FLIcases are made of high grade ABS material and will protect your phone from everyday bumps and drops.
How many phones and other mobile devices can I charge at the same time?

The number of devices that you can charge simultaneously on a single FLIway 40 depends on two things:

The size of the devices: The FLIway 40 has enough surface area to fit three smartphones or 12+ FLIcubes/FLIcoins.
The devices' cumulative power requirements: Mobile devices charge at varying power levels or wattages. If the cumulative wattage of the devices connected to a single FLIway 40 exceeds 40 watts, the FLIway 40 will halt power transfer until enough devices are removed such that the total power requirement drops below 40 watts. To give you an idea of how much power different kinds of devices require, the table below has approximate wattages for commonly used devices:

| | |
| --- | --- |
| Smartphones | 5-10 watts |
| Tablets | 12-15 watts |
| Bluetooth Speakers | 5 watts |
| Smartwatches & Fitness Trackers | 1-2 watts |
| Cameras | 5 watts |
Does FLI Charge work internationally?

Yes. We have sourced type A, C, G and I wall plugs that are compatible with the FLIway 40. A list of plug types by country can be found here. If the wall plugs used in your country does not include type A, C, G or I, you will need to purchase an outlet converter in order for the FLIway 40 to work.
Will the FLIcase block access to the headphone port?

We have designed the FLIcase to have as small a bottom as possible. Although most headphones are able to plug in without problem, we have included a jumper cable that attaches to your headphones, just in case.

SAFETY & LEGAL
Are FLI Charge's technologies protected with Intellectual Property?

Yes. FLI Charge has granted patents covering the core technology as well as pending patent applications. FLI Charge is continuously expanding it's patent portfolio.
Will using FLI Charge for too long harm my battery?

No. It is a common misconception that mobile devices can "overcharge". Power management is typically controlled by the mobile device, making sure that overcharging isn't possible. Therefore leaving devices charging on the FLIway 40 won't harm them, it will just ensure they are charged and ready to use.
What happens if it gets wet?

The FLI Charge software has a built in safety mechanism that will detect any foreign object on the surface and instantly turn off and quickly restart when the object is removed.  The system is water resistant. If it gets wet, water should be removed as soon as possible and it should be allowed to dry completely.
Is FLI Charge safe?

Using FLI Charge is as safe as plugging into a wall outlet. Unlike other wireless charging systems, FLI Charge emits no additional radiation so you don't have to worry about potentially harming yourself or those around you. Furthermore, the FLIway 40 has a built in control system that constantly monitors and immediately halts power transfer if an unapproved object, such as liquid, touches the surface of the pad.
What certifications does FLI Charge and its products have?

FLI Charge products are FCC and CE approved and conform to ROHS standards
Nguồn từ Indiegogo (https://www.indiegogo.com/projects/fli-charge-fast-and-powerful-wireless-charging?secret_perk_token=ba4a3920#/)
Comments
comments